**************************************
WDLA goes China
Flying-Pages closed a contract with the Beijing Publishing Company Evergo. Evergo publishes the only non government General Aviation Magazine in China, a glossy bimonthly named Global Flying. Global Flying reports on all sectors of private aviation from Ultralight and LSA to Light Jets.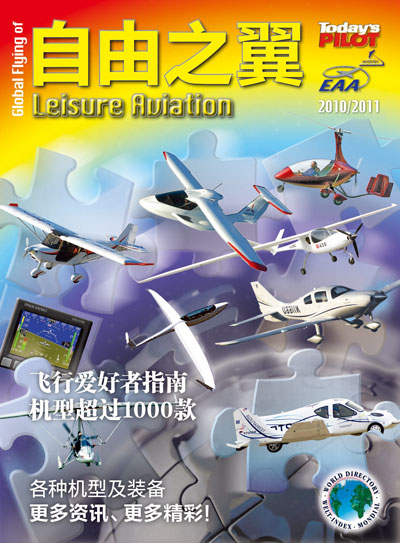 As a joint venture with Evergo, Flying-Pages will produce the "Global Directory of Light Aviation" (GDLA). It will contain all parts of the World Directory of Leisure Aviation (Ultralight & Aircraft Edition) with an additional section Light Jets because the private Chinese Aviation Market is also a High-End Market and thus we deliver a complete overview of the General Aviation sector.
In addition to the free direct mail distribution, the GDLA will also be available at the Aviation Pavilion of the World Expo in
Shanghai
which will open in June
2010
.


Big changes at World Directory of Leisure Aviation (WDLA)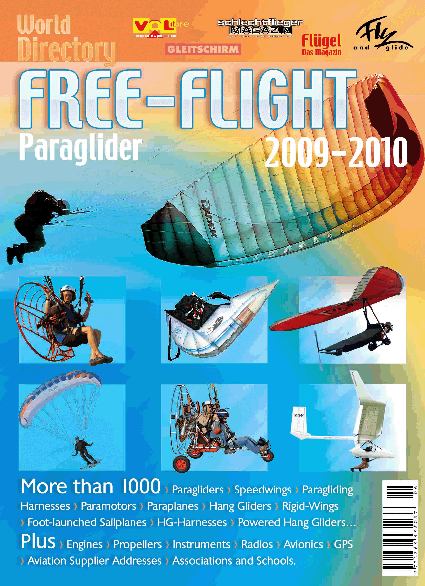 WDLA has established itself as the default point of reference for aircraft which fly for fun. During its 15 years of publication, it has expanded to cover almost every type of aircraft which flies for fun, so much so that the 2008-2009 edition ran to over 350 pages and included flying machines as diverse as paragliders, ultralights, certified aircraft and helicopters.
During this time the worldwide market for leisure aviation has changed a lot, with the advent of deregulation, speedgliding, LSA certification, etc. So we have decided that pilots and manufacturers alike would be better served if we published the 2009-2010 directory in two volumes.
In April we will publish World Directory of Free-Flight (WDFF). This will concentrate on paragliders and other foot-launch and related aircraft, including hang gliders, powered hang gliders, paramotors, paraplanes and foot-launched ultralight gliders.
This will be followed in June by World Directory of Leisure Aviation (WDLA), which while retaining its existing title will now concentrate on all the aircraft not covered by WDFF. Fixed-wing ultralights and LSA aircraft will be the largest section, complemented by trikes, homebuilts, certified aircraft, two-seat paraplanes, gyroplanes, light helicopters, ultralight gliders and (for the first time) certified gliders.
Each directory will be completed with a section covering services, equipment and accessories relevent to the aircraft it contains, including harnesses, instruments, clothing, engines, propellers, and a selection of flight schools. Thanks to the extra space afforded by two volumes, these sections will be more comprehensive than before.
So readers with a special focus on just one category will find more detailed and complete information than ever on their favourite subject – and at a lower price than the current combined edition. And if, like us, you simply love any kind of flying, you will be able to purchase the two volumes as a bundle.
We wish you many pleasurable hours with both parts of our new World Directory which, as before will be complemented by our online database at <www.widola.com>.
The Editors